Academic Integrity
Academic integrity is at the core of George Mason University culture. As members of the Mason community, students,faculty, and staff pledge not to "cheat, steal, plagiarize, or lie in matters related to . . . academic work." We should be and are held to a high standard of honesty and accountability in our research, assignments, and publications.
The fundamental principle of integrity resonates throughout all aspects of university life. Because the university functions as our Internet Service Provider (ISP), we are bound to comply with state and federal laws governing this resource, as well as with the rules defined in the student Honor Code, Responsible Use of Computing, and other policies. Plagiarism is a serious Honor Code offense, and individuals who engage in this behavior may be subject to investigation and review by the university's Honor Committee. On the other hand, copyright violations, such as unauthorized sharing of music and other proprietary material, that stem from improper use of the Mason network and equipment flout state and federal laws governing the use, replication, and distribution of copyrighted content.
For more information or to have questions answered about copyright, please contact the Copyright Resources Office directly at 993-2544 or copyright@gmu.edu.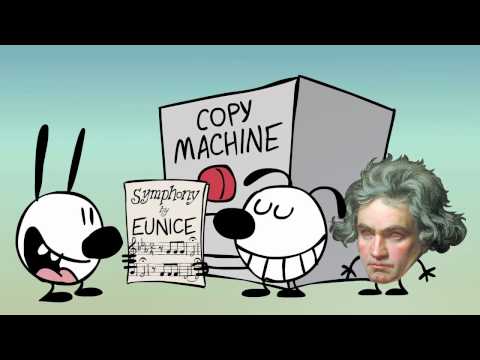 Nina Paley's Credit is Due (The Attribution Song)